#2 TWTWT | Tips, social, content, tools, rant
RSS, cards, smart, accessible, storytelling, measurement, research, grammar, #ad, influencers
Hello, good morning and welcome to the second edition of That Was The Week That Was. First up I want so say a huge thank you to everyone who has subscribed so far and especially to the people who've given me fantastic feedback.
---
Tips
📰 RSS | One reason I've been reluctant to start an email newsletter is personally I don't like email newsletters and prefer my news in a news app where it belongs. I read every newsletter I subscribe to by RSS, but the email only ones automatically go into a newsletter folder, which sometimes gets read. As a publisher email is better as I get to see analytics of who has opened it, clicked links etc. But as a reader RSS is better. If you want to deny me my analytics and get your news where it should be then please subscribe to the RSS feed for TWTWTW 😊. Newsreader apps like Feedly will autodiscover the link but if you want to subscribe manually it is https://stuartbruce.substack.com/feed.
👩‍🚀 Cards| I'm a big fan of cue cards. I use them when I speak at conferences where I often like to speak without slides or with just a few slides with photos or images. I often write the script for a full speech and run through it a few times, but then just use cue cards with a few words on them. It means I never deliver it word for word, but I can remember the key soundbites and not miss important points. I also use cue cards pinned around my monitor to remind me how to do things. Author and speaker David Meerman-Scott is another fan of cue cards and has shared this great story about how cue cards were used in the Apollo Lunar Program. I'm finding cue cards a fantastic way of making sure my remote training and speaking is as polished as when I do it face-to-face.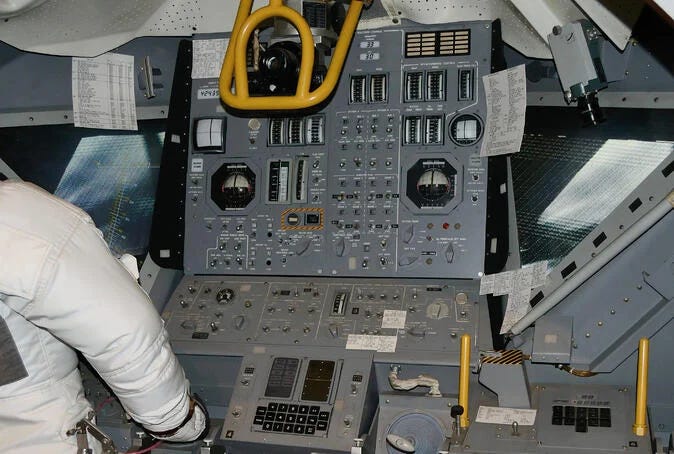 ---
Social
🐎 Smart | Whatever you think about Alexandria Ocasio-Cortez's politics you have to acknowledge she has made a forceful entry into politics by quickly establishing global recognition for AOC as she is known. A lot of it is her personality and bravery in making politically controversial statements. A big part of it is also her innovative and natural use of social media to communicate directly with people without the filter of mainstream media. I particularly liked her recent post on Instagram where she shared her rough notes she made to give a speech in Congress. What was particularly interesting is her use of Instagram as a blogging platform as the photo was accompanied by a lengthy explanation which is well worth reading.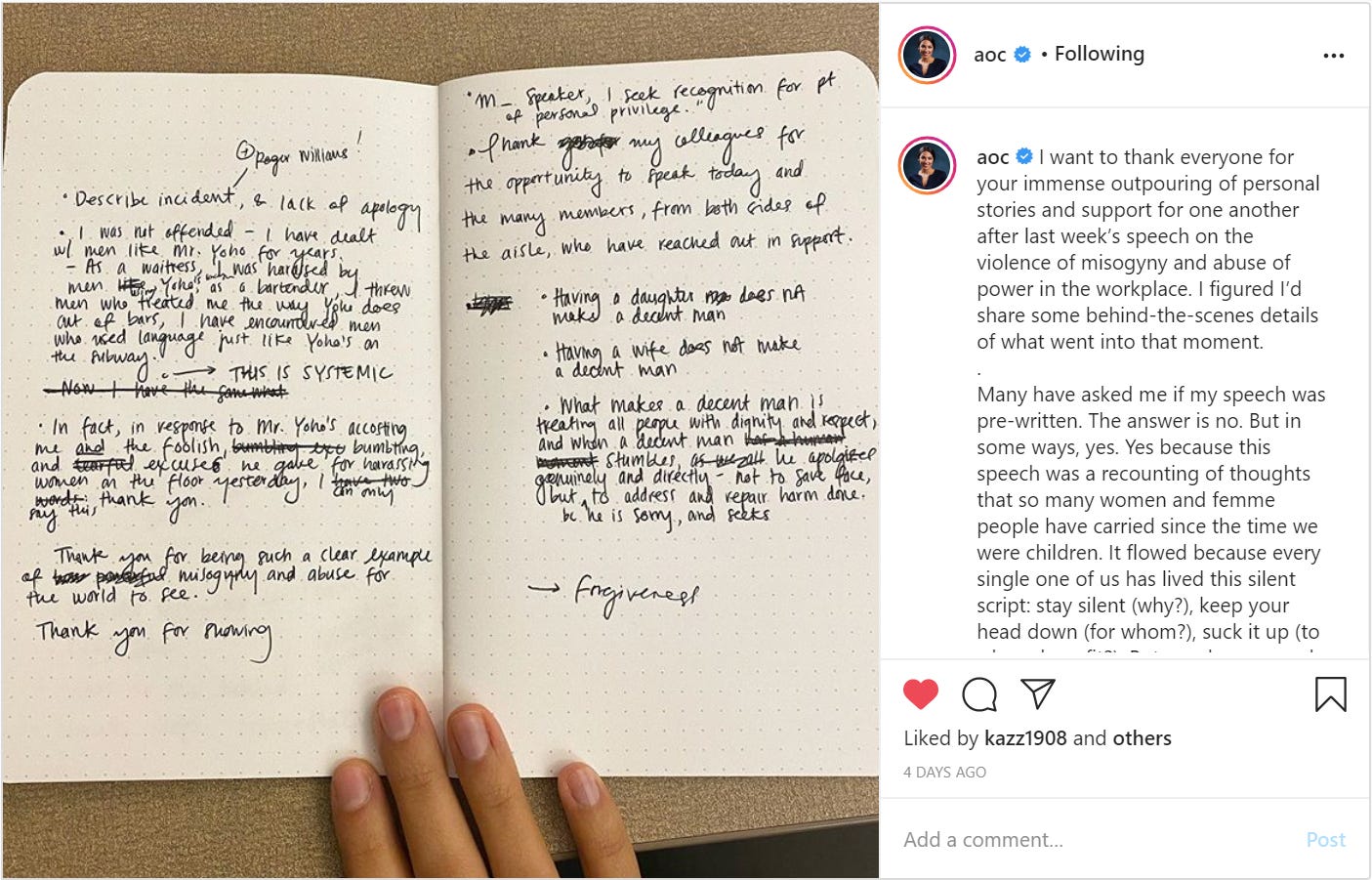 🦮 Accessible | I'm a big fan of the Government Communication Service which is part of the UK Cabinet Office and often use its resources in some of my PR training courses. This is a great guide to how to make your social media campaigns more accessible. In some countries it's a legal requirement, but even if it isn't why wouldn't you want to make your communication more accessible if it is easy to do so?
---
Content
🧞 Storytelling | "My mom, Jackie, had me when she was a 17-year-old high school student… Being pregnant in high school was not popular in Albuquerque in 1964." That isn't the gripping start of a new novel but is the introduction to a testimony to the US House Committee on the Judiciary Subcommittee on Antitrust, Commercial, and Administrative Law. Read this testimony by Amazon founder and CEO Jeff Bezos and discover how corporate affairs and lobbying can be even more creative than brand marketing. When I run corporate storytelling or content management masterclasses and workshops I cover the seven basic plots and the meta-plot stages as tools that PR practitioners can use. You can spot elements of both in the testimony.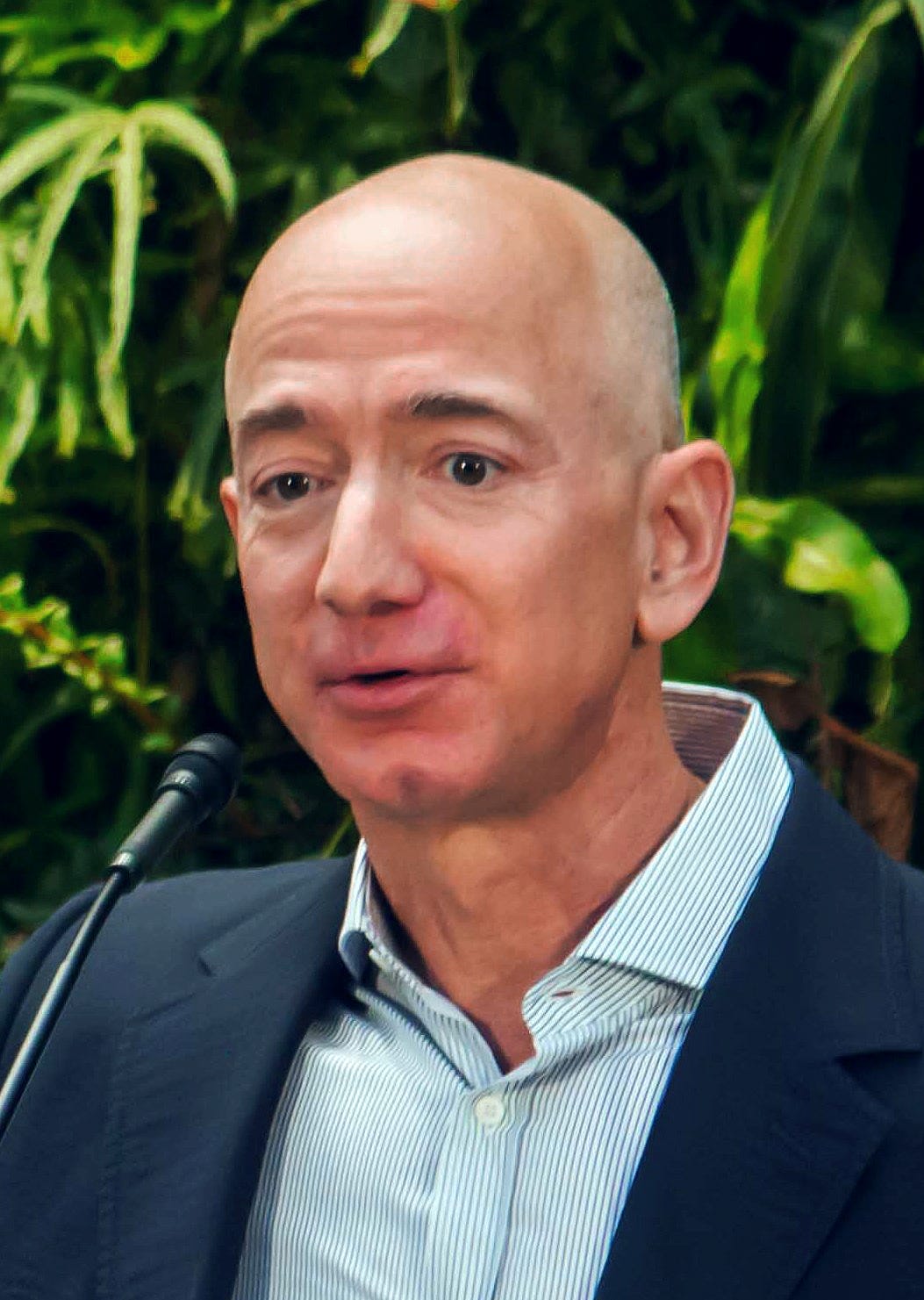 Photo credit: Seattle City Council
📐 Measurement | Attribution is one way digital marketing has sucked in the pounds. It has moved on from just counting that elusive last click to try and track an entire customer journey. Digital marketing types gloat about their fantastic ROI and how they've generated £XXX pounds of revenue. It's also rubbish. Yes, you can do some clever stuff with attribution and I'm constantly astounded by how little understanding of attribution most PR and communication people have. The fact is there is still more that can't be tracked or be part of that attribution journey than can be tracked. Rand Fishkin, co-founder and former CEO of marketing and search analytics firm Moz, argues that too much creative marketing is stifled by attribution. He's right.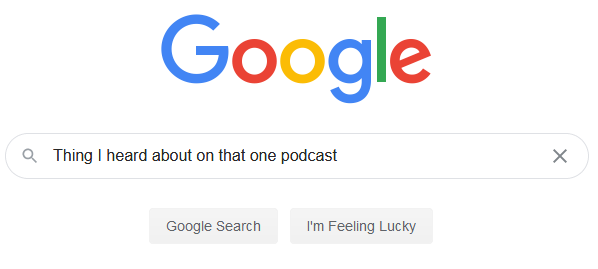 ---
Tools
🕵️‍♀️ Research | Ricochet is a neat new Chrome extension that helps you do "B2B sales prospecting". You visit a company website and click the extension and Ricochet gives you a neat little dashboard of what it can find about the company. What better way for me to show you than showing what Ricochet can find out about Ricochet? What makes Ricochet even better is it's a northern England start-up from Newcastle and is the brainchild of Paul Smith who has a good track record in UK tech start-ups.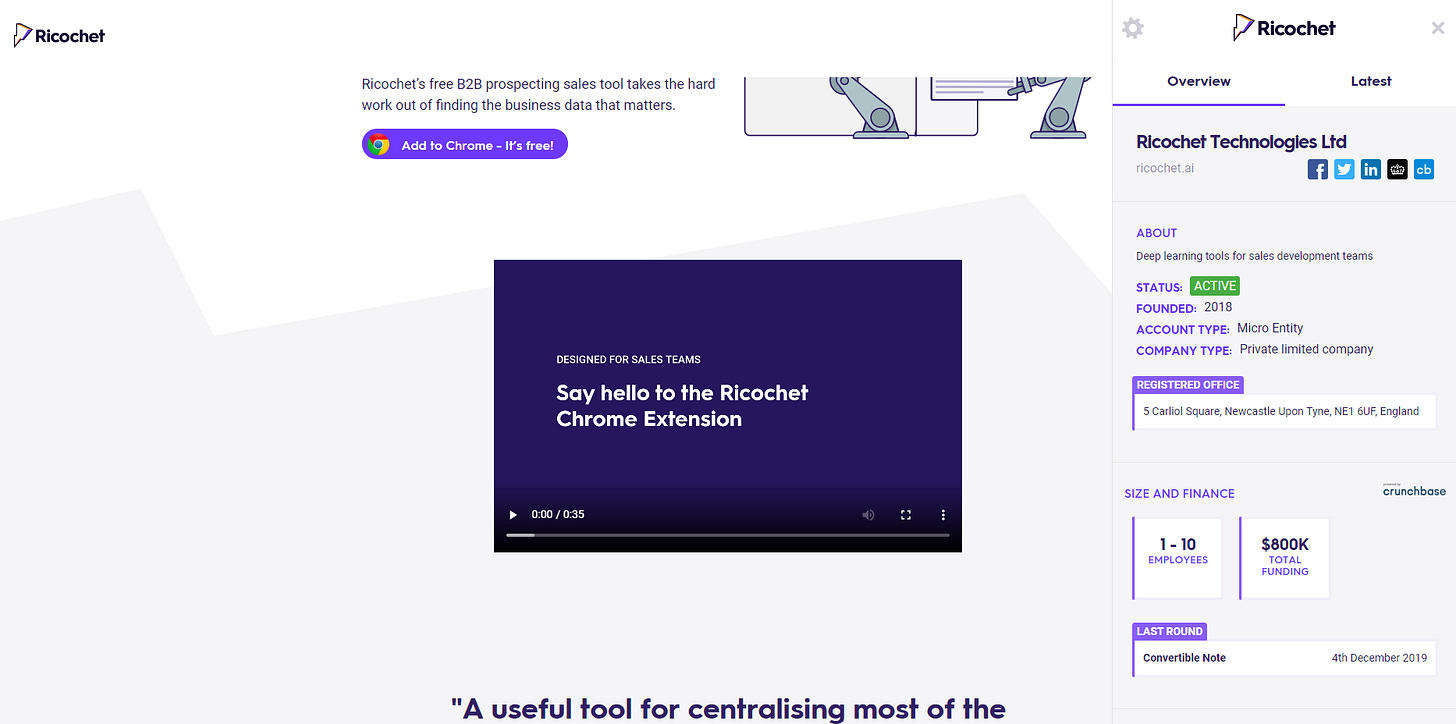 👨‍🎓 Grammar | If you are a fan of Grammarly, the automated tool that checks your writing, then you might be interested in Linguix. It's an AI-powered personal writing assistant that automatically checks your grammar, punctuation and style. Like Grammarly you install it as a browser extension and it automatically checks your writing. You can also upload long, complex documents to the website to be checked. It also provides 'Snippets' where you can keep repetitive phrases to quickly type them using a shortcode. I've only had a quick play so far so don't really know how Linguix compares to Grammarly or other writing tools. There is a free version, and Linguix is usually $8 a month for the premium version, but there is a lifetime deal for Linguix on AppSumo at the moment to get three premium lifetime licences for $49. [#ad The AppSumo link gives you $10 off your first purchase so it's only $39 and also gives me $10 so I can afford to buy the deal myself 😊]
---
Rant
🤥 #ad | This is the first time I've used the #ad warning as it's what the new CIPR influencer guidance says I should do. It's perverse that what is meant to be ethical guidance tells you to LIE! Yes, you read that right. The CIPR guidance tells you that to be ethical your need to be a LIAR! It doesn't caveat at it by saying it is only telling you to lie because others made it tell you, which in my humble opinion would be the ethical thing to do. Why do I say this? Because the post above is absolutely not an #ad. You'd have to be a complete idiot to think it is. An advertiser has to have some control over an advert - what it says, when it is said, where it appears etc. AppSumo has no control over any of these things so therefore it is impossible for an affiliate link to be an #ad and I have lied by saying it is. I feel dirty, but it's not my fault.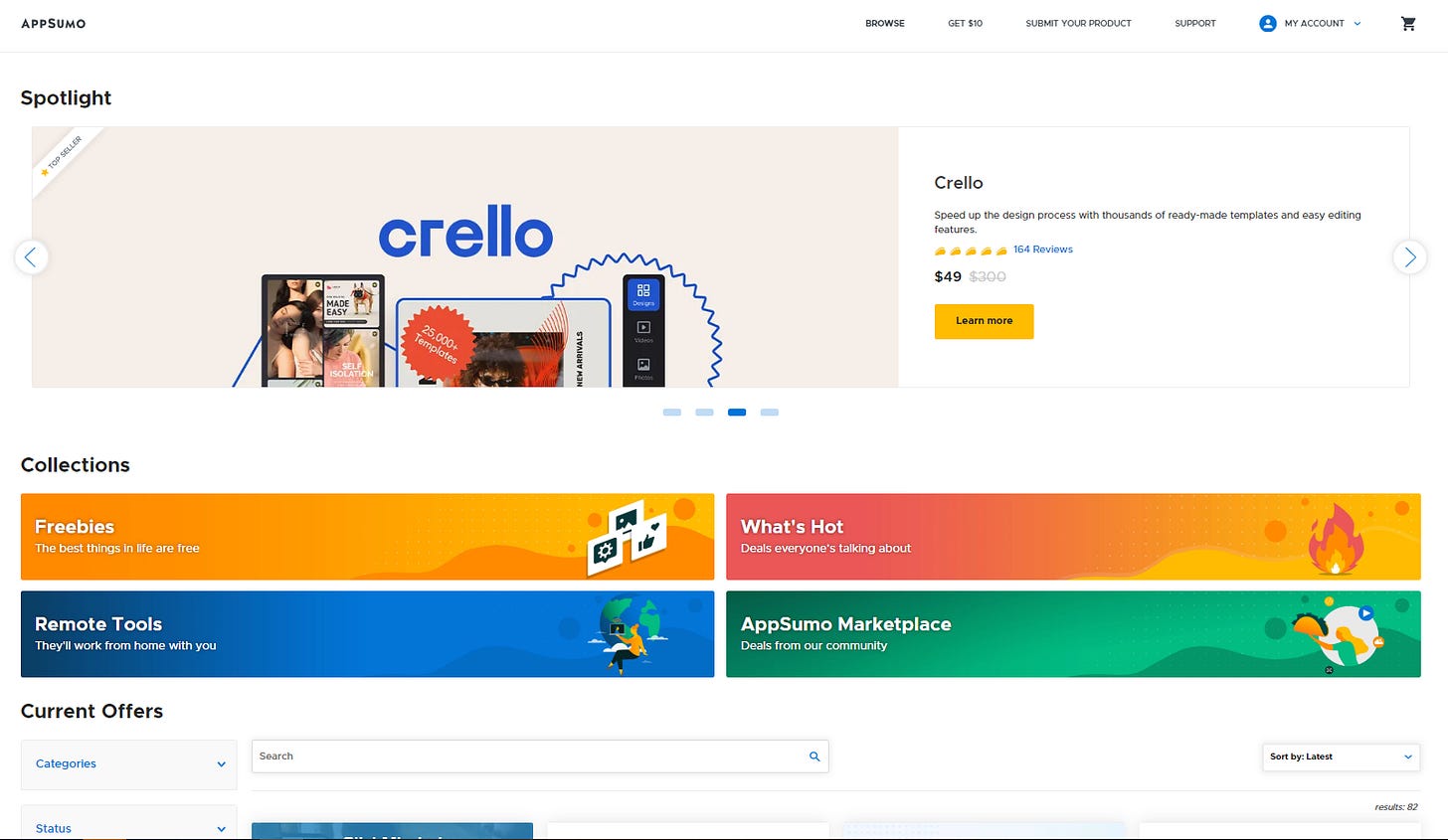 🤥 Influencers | I'd been looking forward to the new CIPR guidance on influencers being published as CIPR guides are usually excellent but I was disappointed when I read these ones. The three main problems are they don't answer some of the questions that get asked, they don't provide a clear distinction between guidance and the law, and they don't offer real CIPR opinion. One question PR practitioners struggle with is the difference between an influencer and a journalist. When should an influencer use #ad and when should a freelance journalist use #ad? Why no opinion on the fact that #ad is also misleading and as in my example above a lie? It is incredibly misleading (and therefore unethical) to label something as an #ad if it isn't. It makes it much more difficult to actually tell real advertising from independent opinion if people are forced to lie and pretend their opinion is an advert. Rant over.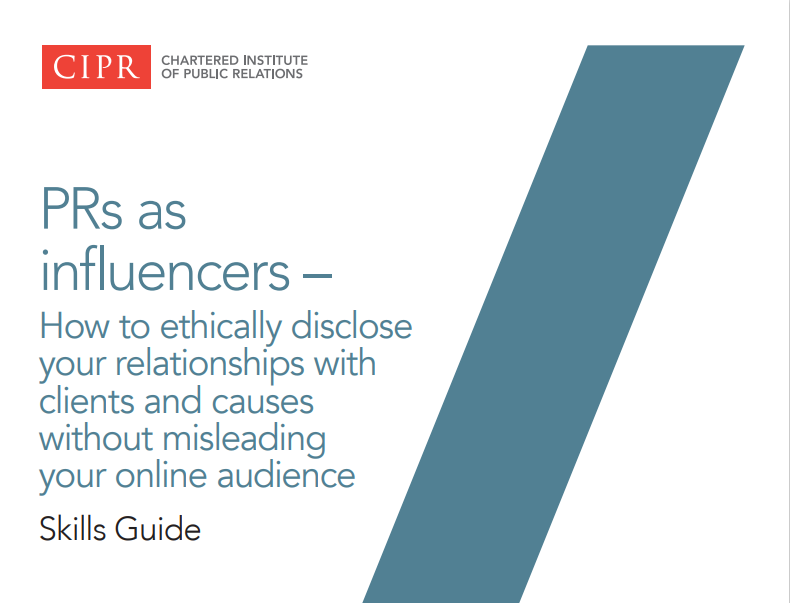 ---
Bye for now
That's it for another week. If you aren't already then please subscribe now so you don't miss next week's issue.
You can also find me on Twitter, my PR Futurist blog and on LinkedIn.